Rent a Car in La Reunion with ADA REUNION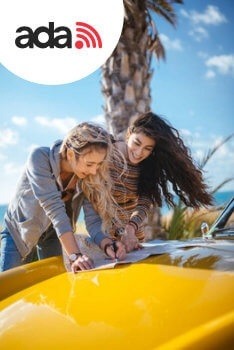 Looking for a cheap car rental for your holiday in Reunion?
ADA REUNION provide cheap car rental with special offers and discounts throughout the year to hire a car at the lowest price.
Book a car rental at Reunion Airport
ADA REUNION hire cars from Roland Garros airport with competitive prices and great service. ADA Réunion is approved by the S.A Roland Garros airport to operate within the perimeter of the airport.
Large range of new hire cars
ADA REUNION offers a large range of hire cars for your holidays, business trips, recreational activities or utility cars in order to move heavy objects.
Why ADA Rent a Car?
ADA Réunion is the specialist of car rental and the N°1 utility rental at Reunion Island. Our strenghts : Fair prices, great service and new cars.
Our company is hirer member of the SICR in order to respect high quality service in Reunion car hire industry.
Book & Contact
International phone number : +262.262 215 901
Local phone number 02 62 21 59 01
Call centre opening hours
7/7 from 8:30 AM to 8PM (Reunion Time Zone)
Do not hesitated to contact us by email with our contact form